Salaam, salaam!!
Check it out, I know brothers have been slacking, but training for these fights and recording an album while looking for a job is NO JOKE. Very time consuming folks, brothas is out here exhausted!!!
Anyway, I dunno if this is going to be an every Friday thing, but I'ma try to make it work. You know mans be on Twitter with the Follow Fridays, but I wanna show love to what I hear that's new, and I like.
First off,
Jasiri X
. Every one knows,
Jasiri
is my brother from another mother. So check this, his video is blowing up all over the inter net. He shot this DURING G-20, in front of the jakes!!! Definition of Gangsta. Mansthem need to step there street cred up 10 fold now. The respectable Minister Jasiri was really in full effect. Check his video out:
The Only Color That Matters Is Green

Next up! My man
G5 Clive
out of Chocolate City (Washington DC for all of you ignorant suckas) just dropped a brand new mixtape called '
Reign Cheque'. Clive
is one of the most creative and lyricaly flexible brothers out right now and also is one of DC's biggest names, right behind the 2009 break out artist
Wale
. Reign Cheque features the internet smash (and my favourite song out right now)
Vice City
, also featured on the production is some guy from Toronto named
Fundamental
. He's half of this group called
Good Company
, I dunno if you ever heard of them.
Sex Ed: Like Water (Remix) prod Fundamental
http://www.mediafire.com/?zjzcn3gyeon
Those familiar with my blogs, are familiar with
Tito Lopez
.
Tito
has been on a meteoric rise, from numerous mixtapes gaining steam online, to storming AllHipHop.Com and a fued with
Saigon
. I'm a little late with his newest release
The Strictlee Tito lopez LP
, but better late than never. This is 5 tracks of pure HEAT, from in my opinion the best MC with out a deal (next to me of course).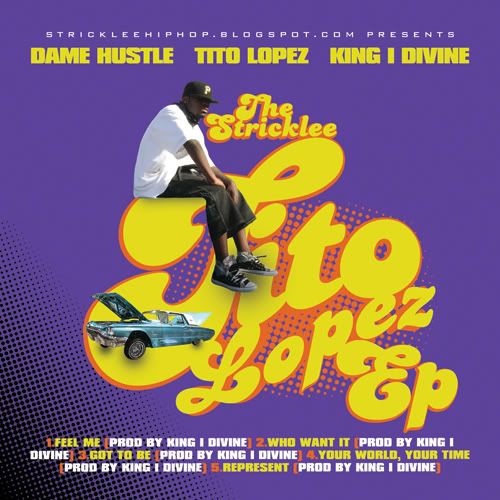 Last but not least, we're coming back top Pittsburgh.
Jonny Quest
is a new jack on the scene, and is ready to make noise. He has a song for us regular joes who deal with rejection from the opposite sex because we aint dope boys. Well ...
Mr. Quest
has some dope commentary on the subject with his song
She Tried To Tell Me
prod by Chemist. It's a real early 90s type feel, something like Lord Tariq would of done. So here it is!
She Tried To Tell Me prod Chemist
http://www.zshare.net/audio/66408103993cf30a/